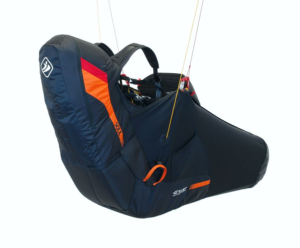 Free Flying
Light pod harness for cross country pilots looking for some comfort coupled with small weight.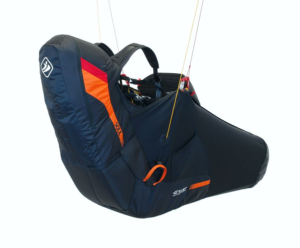 Caution – last pieces available!
The Soul was designed for cross country and competition pilots, looking for light  and comfortable harness
Soul Harness

The most visible changes in comparison to Soul 2015:
decreased weight
improved comfort and functionality
adjustable lumbar part
carbon seat plate and footrest
new container
new, integrated with the pod, cockpit has been designed too (featuring additional section and a safety knife).
Main point on the wishlist were improvements in ergonomics and weight reduction. Due to light, carbon seat board and footrest, as well as other materials the Soul weighs just 3.3 kg in M size. Comfortable, ventilated backrest and a new, ergonomic seat with profiled board ensure maximum comfort during the flight. Large adjustment range makes sure that every single pilot will be able to find his/her optimum. Redesigned strap scheme brings great stability and significantly reduces danger of launching with leg/chest straps not clipped in. The  Soul is equipped with a certified 15 cm thick airfoam protector. Integrated rescue chute container is placed on the back, behind the protector. The release handle is fixed in easily accessible area on the right side of the harness. The pod shields the pilot against cold and improves aerodynamic qualities. Four-point adjustment of its length allows for stepless adjustment of the footrest too. Complete with integrated cockpit it is closed in two points only. The cockpit has an additional, detachable instrument panel, equipped with easily accessible safety  knife. Locking scheme of the pod 'reminds' the pilot to clip in the chest strap as well. Under the seat plate there is a container for a ballast bag, too. The Soul features easily replaceable, ball-bearing Duroll pulleys, improving the speedsystem operation.
Harness certification: EN1651, EN12491 i LTF 09.
Just one colour scheme is be available.
Parameters
TECHNICAL DATA
| | | | | | | |
| --- | --- | --- | --- | --- | --- | --- |
| Size | Suspension height | Seat width front/back | Seatplate depth | Back support height | Max pilot weight | Harness weight* [kg] |
| S | 43 cm | 24/31 cm | 43 cm | 60 cm | 100 kg | 3.33 kg |
| M | 44 cm | 26/33 cm | 45 cm | 63 cm | 100 kg | 3.42 kg |
| L | 45 cm | 27/34 cm | 47 cm | 66 cm | 100 kg | 3.49 kg |
| XL | 46 cm | 27/35 cm | 50 cm | 69 cm | 100 kg | – kg |
* Including protectorem, carabiners and speedbar
Dudek Paragliders warns that due to constant process of development the actual product may differ slightly from the one described and seen above or in the manual.
Possible differences will not affect the fundamental design parameters.