Free Flying / Cross Country
Colt
Free Flying / Cross Country
Colt is an EN C category wing with aspect ratio of 5,9 (59 cells). Since it was designed for actively flying pilots, it is perfectly suited for cross-country paragliding (competitions included).
Info
Photos
Parameters
Download
The canopy itself is designed and manufactured employing new technologies. High passive safety with great performance and excellent handling. Original look… and European quality.
Three-row canopy with rigid cores (Dudek FlexiEdge technology) capitalizes on recent knowledge gained while testing three- and two-liner competition protos. Moreover, the Colt itself was already flown during Polish Championships with good results. The aspect ratio was carefully calculated in order to make full advantage of new technologies while retaining optimal proportion of passive safety and performance, definitely one of the best in this class.
With great care our experiences with reflex profile have been utilized too. The airfoil of the Colt has some reflex traits, cautiously applied in regard to paraglider's class, typical use and flight characteristics.
Inner reinforcements, structural cores and mini-ribs perfectly shape and stabilize the high-lift aerofoil. Well thought-out three-row rigging markedly decreases drag, thus enhancing overall performance. Mini-ribs on the trailing edge keep it slim and decrease ballooning, radically improving the airflow. All these combined solutions result in glide ratio realistic until now only for high aspect-ratio competition wings, accompanied by high speed and stability on speedbar. Colt is obedient and easy to turn – a very important feature, since coupled with low sink rate it will help you survive in weak and broken lift.
Overall characteristic, agility and nimbleness reminded us of a young, playful horse, so choosing the name was easy 🙂
As in other our paragliders, the risers of the Colt constitute a complete, comfortable and carefully thought out 'control panel', based on narrow (aramid) risers of 12 mm. Soft steering handles featuring neodymium magnets, coupled with ball-bearing SmartPulleys in speed system, will be appreciated on long cross-country flights, for which the Colt was created.
Colt is manufactured with new technology, employing precision of the laser cutter. All stages of production are completed in Poland under strict supervision of the designer himself, thus ensuring highest European quality.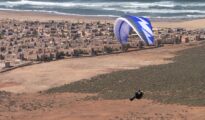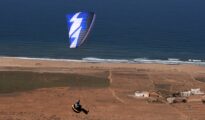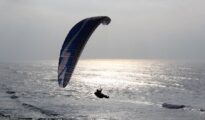 Parameters
Technical data
Name – size
Colt 23
XS
Colt 26
M
Colt 28,5
L
Colt 31
XL
Certification EN/LTF
pending
C
C
C
Number of cells
59
59
59
59
Surface area (flat) [m2]
23.20
26.00
28.50
31.00
Surface area (projected) [m2]
20.07
22.49
24.65
26.80
Span (flat) [m]
11.70
12.39
12.97
13.52
Span (projected) [m]
9.43
9.99
10.46
10.90
Aspect ratio flat/projected
5.90 / 4.44
Sink rate [m/s]
min = 1.0; trym = 1.1; max = 2.0
Speed [km/h]
min = 23; trym = 38; max = 54
Max chord [cm]
247
261.44
273.73
285.47
Min chord [cm]
49.40
52.29
54.76
57.11
Distance pilot to wing [m]
7.37
7.80
8.17
8.52
Total lines length [m]
269.66
285.98
299.77
313.07
Canopy weight [kg]
—
6.0
6.4
6.7
Take-off weight [kg]
60-80
75-100
90-120
110-140
Lines
Edelrid A-8000U: 025 & 050 & 120 & 200; 7343-280
Cloth
Dominicotex 38, 34, Porcher hard 40