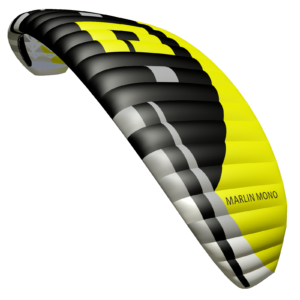 Free Flying / Training
Marlin Mono
Free Flying / Training
A single-skin fun and training wing. Supplements training in too windy or too quiet days, and integrates family and friends in the common play on the nearby lawn. At the same time it is durable and affordable.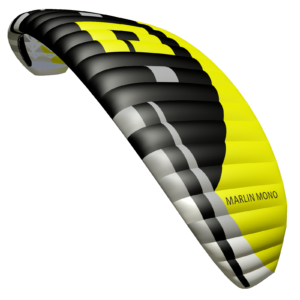 Info
Photos
Colours
Parameters
Set contains
The wing is small, light and easy to use. The control system, risers and line colours are the same as in the Nemo 4 school wings, which will facilitate their mastering at later training stages.
The leading edge is reinforced with a tube that helps to maintain the correct shape of the wing's airfoil at this critical point. The single-skin design of remaining areas of the canopy supports easy rising, staying over the pilot's head and pleasant handling. Thanks to its construction and small surface, the Marlin Mono can be used in both weaker and stronger winds than a traditional paraglider. That's why you can use your leisure or training time to the max, even when flying is not possible.
The wing is perfect for family games even on small backyard lawns. As such, it can be an excellent incentive to start learning to fly on a real paraglider, too.
In production we used durable, professional fabrics from Dominico, as well as dedicated paraglider lines to ensure the long life of the wing. We have done our best to make this wing affordable with latest design and materials.
Finally, we would like to remind you that the Marlin Mono must be used exclusively for ground handling training or fun. This paraglider is definitely not meant to fly!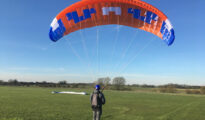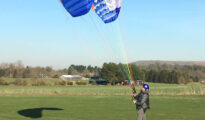 Parameters
TECHNICAL DATA
Size
Marlin Mono 12
Certification
not certified (not for flying)
Number of cells
29
Surface area (flat) [m2]
12,00
Surface area (projected) [m2]
10,31
Span (flat) [m]
7,59
Span (projected) [m]
6,08
Aspect ratio (flat)
4,80
Aspect ratio (projected)
3,58
Weight [kg]
2,17
Fabric
Dominico tex 38 g/m2
Dominico tex 45 g/m2