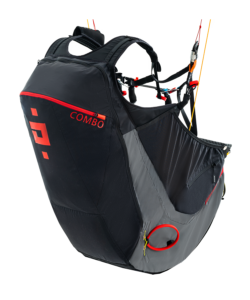 Free Flying
Complete harness for beginners (both training and recreation).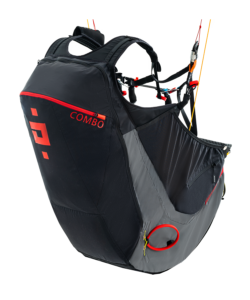 Galeria
Opis
Parameters
Pobierz
Set contains
Combo 2023 was designed for novice pilots. It's perfect for training and recreational flights
Combo 2023
Basic changes compared to the previous version – Combo 2015:
integrated container
V-tape
carabiners included
radio pocket on the shoulder strap
available in three sizes (S, M, L)
A compact design with convenient seat and backrest as well as an integrated container for a rescue parachute guarantees high comfort and convenience of use.
The range of adjustment and availability in three sizes allows for a precise fit of the harness.
Combo 2023 uses a certified airfoam protector with a thickness of 15 cm. The pilot's back is protected by an additional airfoam cushion. The lower part of the harness is protected by an easy-to-replace, abrasion-resistant plastic plate to protect this part of the harness from abuse by novice pilots.
The rescue parachute is placed in an integrated container at the back of the harness with the release handle on the right side.
Combo 2023 has four pockets: on the back, two side pockets and an additional one under the front part of the seat.
The harness uses lightweight Allen blocks with ball bearings, improving the work of the speed system.
The harness is produced in three sizes S, M and L.
Parameters
Technical Details
Size
Pilots height
[cm]

Seat width
[cm]

Suspension height [cm]

Distance between carabiners
[cm]

Weight of the harness*
[kg]

Load test [100 kg]

Certificate
S
160-169
32
45
43
EN1651/
LTF91/09
EN/LTF
M
167-182
33
46
44
3.13
EN1651/
LTF91/09
EN/LTF
L
180-192
35
47
45
EN1651/
LTF91/09
EN/LTF
* Weight with protector, carabiners, speedbar and frontcontainer.
As Dudek Paragliders products are constantly modified, those presented on the website may slightly differ from those currently produced.