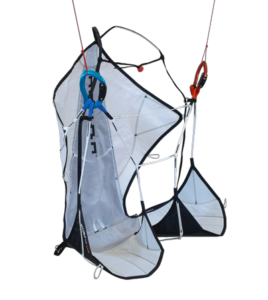 Special
Comfortable and light Sit&Fly 260 harness for hike&fly, para-alpinism and all activities prizing small weight, ease of transport and relatively high comfort.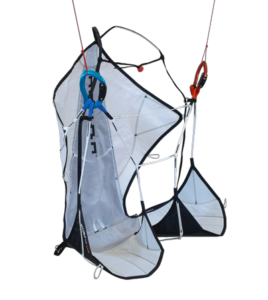 Info
Parameters
Download
Set contains
Due to light and durable materials of best quality it weighs just 258 g in M size, despite the use of design solutions significantly increasing the comfort of flight.
By default it is equipped with AustriAlpin Rocket carabiners. It is adapted to accommodate the speedbar. The rescue chute can be placed in an optional frontcontainer.
The Sit&Fly 260 harness was designer for short flights and gliding down. You can comfortably fly for up to 1 hour or more, depending on your personal preferences, body build and pilot's weight.
Sit&Fly is manufactured in three sizes: S, M and L.
CERTIFICATES AND SAFETY
Sit&Fly 260 is certified accordingly to EN 1651 norm for a maximum pilot weight of 100 kg. Due to its ultralight construction radical manoeuvres, aerobatics or safety training (SIV) must not be executed. Sit&Fly 260 cannot be used for towed launches nor tandem flights either.
ADJUSTEMENT
In the harness as a whole only the arm straps and the link are adjustable.
SET
The set comprises one Sit&Fly harness and two AustriAlpin Rocket 22 kN carabiners (one red and one blue) 65 g each.
Optional harness equipment includes: speedbar with accessories, frontcontainer and Pack&Hike 30 backpack of 30 l volume.
Parameters
TECHNICAL DATA
| SIZE | MAX PILOT WEIGHT | PILOT HEIGHT | WEIGHT* |
| --- | --- | --- | --- |
| S | 100 kg | up to 170 cm | 253 g |
| M | 100 kg | 170-185 cm | 258 g |
| L | 100 kg | above 185 cm | 268 g |
* Without carabiners and speed system
Since Dudek Paragliders products are subject to constant improvements, minor differences are possible between the manual and actual product. Dudek Paragliders withholds rights to introduce such changes without individual notice.