Application of individually designed advertisements is possible on most of our paragliders.
What are our limits and project requirements?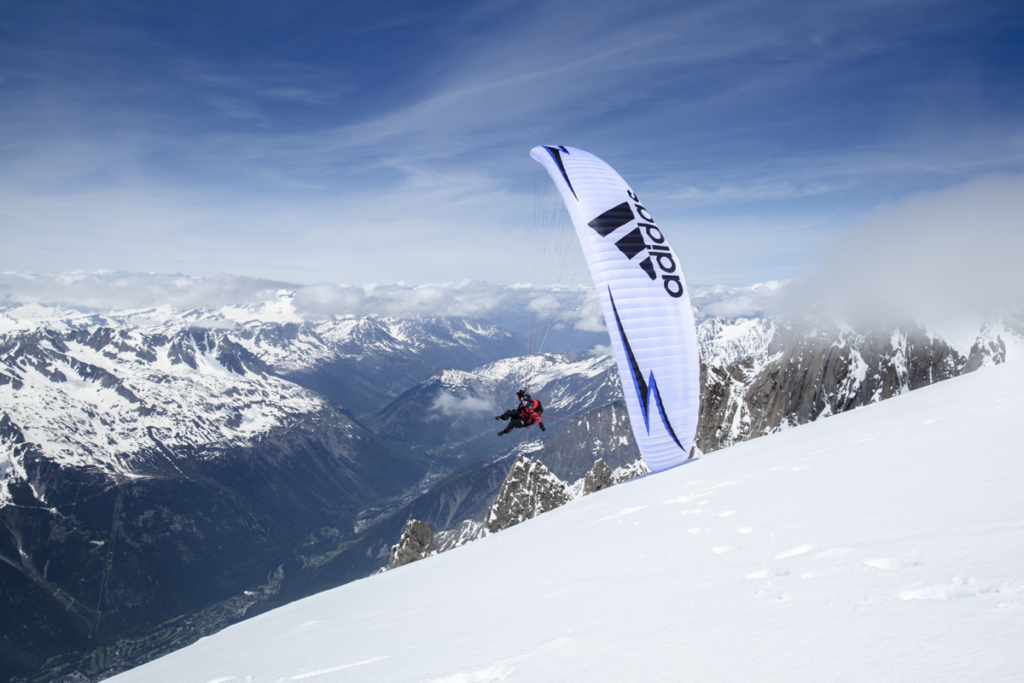 Most often the advertisements are applied on the lower surface of a wing. If the standard version of the canopy has any graphics there, on a special request we can give up on these in favor of a white background. NOTE – we must know this already when the paraglider is ordered.
It is not always possible to integrate some advertisements into the existing wing graphics, at times it "just" imposes significant restrictions, for example in size or placement of the advertisement.
The advertisements themselves are made of self-adhesive paragliding fabric in a limited range of colors. Therefore we unfortunately can't apply tonal gradations and more complex shapes or non-standard colors. During the visualization and evaluation stage of the advertisement prodution, our design department will inform you about any necessary changes or simplifications of the original designs presented to us.
To provide an advertisement visualisation and pricing we need some information:
wing model
wing size
wing color (if known)
information about placement (simple description, top/bottom surface, size of logo etc.)
logo in vector format: cdr (max. X6 version), wmf, eps, pdf, ai  (we cannot guarantee about possibility to use it, sometimes errors could occur during an import)
if there is no vector file we need raster/bitmap graphic in 5000px in smaller dimension (logo size, not containing background), we add then additional charge for converting it to vectors (if it will be possible to convert)
any additional customer wishes/informtion
We can place advertisements only on wings manufactured by us.
We cannot take responsibility for sticking them on the constructions of other companies, because we do not know how the advertisement will behave on other materials, whether it will not be too transparent, it will not fall off or it will not deteriorate the flying qualities of other wings.
We can also cut the advertisement (without sticking it) and then the client can stick it on whatever he wants on his own responsibility.
copy link