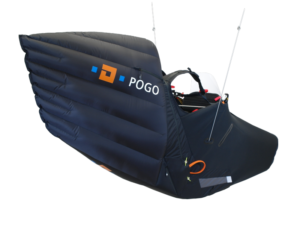 Free Flying
Pogo 4 is the latest version of our flagship harness designed for pilots flying cross country and competitions.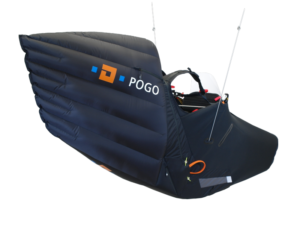 Info
Parameters
Download
Opinions
Set contains
It is currently one of the lightest harnesses in its class. It is very comfortable and equipped with everything necessary for very long flights or competition racing. Its compact design guarantees a perfect union of the pilot and the harness.
During the design phase, Sławomir Kubiak the harness designer, devoted a lot of attention to refining the shape of the harness, especially its rear part. A harness of this class, apart from providing the pilot with the highest level of comfort, must also be carefully tuned aerodynamically, to minimize air resistance.
Pogo 4 is an almost completely new project and has little in common with its predecessor, apart from the highest quality and name. The most important differences are:
improved comfort (especially of the backrest)
integrated container with space for two rescues as standard
container for a "G-chute"
enlarged cockpit with detachable glass and a pocket for a power bank
new arrangement of risers, offering higher suspension
enlarged ballast container
optimized footrest shape
Ronstan 30 pulleys installed for smoother speed system operation
Edelrid Alias II Speed carabiners, guaranteeing higher suspension of the footrest as well as the cockpit position
The pilot may choose to fly with or without a seat board
improved aerodynamics, especially of the rear part of the harness
dedicated radio pocket plus an additional one inside the harness
Ventilated backrest and a new, ergonomic seat with profiled seatplate ensure maximum comfort during the flight. Large adjustment range makes sure that every single pilot will be able to find his/her optimum. Redesigned strap scheme brings great stability and significantly reduces danger of launching with leg/chest straps not locked properly.
The harness is equipped with a 15 cm thick, certified airfoam.
Integrated container for two rescue chutes is located on the back, behind the protector. Release handles are fixed in easily accessible areas on both sides of the harness.
Locking scheme of the pod 'reminds' the pilot to clip in the chest strap, too. There is a ballast pocket under the seat plate. The harness has the Ronstan 30 pulleys installed, mproving the speedsystem operation. A self-inflating flow around the back of the harness improves aerodynamics and flight stability.
The pod improves aerodynamics of the harness and protects the pilot against cold. There is and adjustable length/angle) footrest and a two-step speedbar within the pod. The pod is permanently attached to the harness and integrated with a cockpit. It is closed in two places only.
The cockpit has an instrument panel, equipped with a safety knife and can be easily detached with the instruments still fixed to it. Under the panel there is a pocket, accessible in flight. There is another pocket below too, suited to house a power bank. The cockpit windscreen is detachable. The cockpit itself is integrated with the pod and does not have any additional fasteners.
Due to light materials the harness weighs just 5,3 kg in M size.
Certificates: EN1651 i LTF91/09.
One colour scheme available.
Complete set includes:
1 x harness with integrated pod
1 x protector (15 cm)
1 x airfoam pad between backrest and the container
1 x carbon seat plate and the footrest
1 x two-step speedbar with hooks
2 x Ronstan 30 pulleys
1 x cockpit integrated with pod
1 x cockpit windscreen with cover
1 x additional instrument panel with safety knife
2 x rescue chute bag with release handle (1 left, 1 right)
1 x filler insert for the container
1 x filling insert for the Anti G-chute pocket
2 x V-strap (two parts)
2 x Maillon Rapide C6
2 x Dudek 20 kN carabiners
1 x detachable radio pouch
1 x detachable inner pocket
Parameters
Specification
| | | | | | | |
| --- | --- | --- | --- | --- | --- | --- |
| Size | Pilot height [cm] | Seat width (front/back) [cm] | Suspension height | Weight of the harness [kg] | Load test (100 kg) | Certificates |
| S | 157-170 | 24/31 | 45 | – | EN 1651/LTF91/09 | EN/LTF |
| M | 165-182 | 26/33 | 46 | 5,3 | EN 1651/LTF91/09 | EN/LTF |
| L | 178-190 | 27/34 | 47 | – | EN 1651/LTF91/09 | EN/LTF |
| XL | 185-200 | 27/35 | 48 | – | EN 1651/LTF91/09 | EN/LTF |
Since Dudek Paragliders products are subject to constant improvements, minor differences are possible between the manual and actual product. Dudek Paragliders withholds rights to introduce such changes without individual notice.
Łukasz Siemiński
Multiple XCC and XCPortal champion, holder of the current Polish out-and-return record. Loves to travel through the word with a paraglider in his backpack.
I specialize in cross country flights and the most important feature I look for in a harness is comfort in a long, sometimes even 10-hour flight. Pogo 4 is absolutely a good choice here – a stable and comfortable flight position, excellent thermal comfort due to neoprene of normal thickness, high responsiveness despite using a seatplate.
There is place for 2 reserve chutes, as well as an anti-g one, speed system which thanks to large Ronstan blocks runs extremely smoothly and a few useful trinkets that simply make life in the air easier, such as a special zipped pocket for a power bank with an exit for cables, or an aerodynamic fairing on the cockpit. And all this weighs
only just over 5 kg!
The most important thing, however, is a very comfortable and carefully made harness. My last nearly 7 hours flatland flight on Pogo 4 was pure fun, with no sign of fatigue!