Each wing intended for flying must undergo appropriate tests. Others are designed for free-flying wings, others for propulsion wings.
Some other paraglider elements such as harnesses, rescue parachutes, carabiners and trailers are also tested.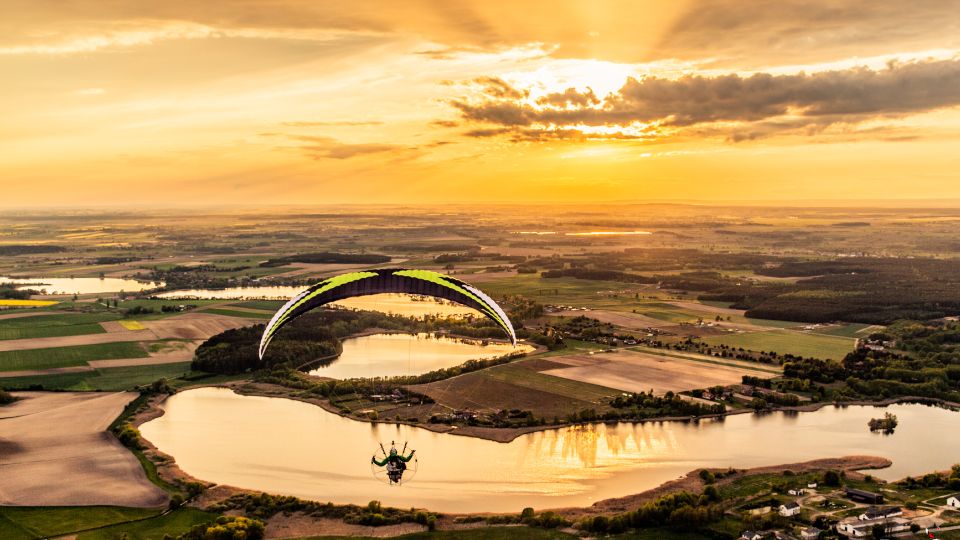 @lojakpl
TESTS OF PARAMOTOR CANOPIES
A part of our paramotor canopies are tested in flight according to EN 926-2 norm, originally developed to assess free-flying paragliders. Unfortunately those tests are not the best tool to judge dedicated paramotor canopies, and that's why for several years there were attempts to develop separate paramotor tests and norms. A year ago (end of 2011 and March 2012) two new test procedures emerged –  French DGAC and actualised LTF (German). Recently most of our paramotor gliders are tested according to DGAC procedures.
DGAC certificate is based on flight test and internal paramotor flight tests. Main points to be controlled under maximum load in defined weather conditions are:
inflating the canopy
launch characteristics
speed parameters in level flight
canopy behaviour while entering hard (dynamic) turn
longitudinal stability while steering in accelerated flight
longitudinal stability while exiting accelerated flight
landing characteristics
Sensible testing procedures and fair job that is being done by certificating bodies fuels trust that many manufacturers place in DGAC standard. It is compulsory in France and regarded as reliable in ever growing number of countries.
Tests standard as agreed in March 2012 between EAPR, DULV and PMA.
Difficulties in working out a common position between these bodies (which are often negating each other certificates) means that manufacturers do not know what is exactly expected ot them. Until this is not cleared, it won't be a popular standard on other markets than Germany.
copy link
TESTS OF FREE-FLYING WINGS (EN, LTF)
Most of our paragliders are tested according to new European Norm (EN) regulations
Flight test – EN 926-2:2005
Load test – EN 926-1:1995
Earlier we have been certifying our wings within AFNOR scheme.
Below you will find a table roughly comparing ranges of specific tests.
German paragliding market is regulated by LTF norms (former DHV). In fact they are very similar to the EN norm, with just some minor differencies. Since 2010 LTF is using the same categories as EN does (A, B, C etc.)
Both organisations are working towards full unification of EN and LTF tests.
The European norm is focused on the least experienced pilots – in their case maximum safety must be guaranteed, while the more seasoned can take care of themselves. That's why the initial classes are very tight, and even slight deviations from directional or vertical axis in specific manoeuvres can disqualify the wing. In case of higher classes there is fast increase in tolerance limits.
Full test schedule results in thorough description of given paraglider's behaviour in specific manoeuvres, each tried both at minimum and maximum weight (in free flight).
In case of each our paraglider you will find details of its certification along technical datas. Authenticity of certifications can be verified at www.para-test.com.
Certificate name, category and number are given on the rating plate (wingtip).
On the wing there may be present a different sticker as well, confirming new European certificate, with detailed results in its bottom line.
Below you will find a brief outline of EN paraglider categories with flight test details.
copy link
PARAGLIDER CATEGORIES
| | | |
| --- | --- | --- |
| class | flight characteristics | pilot skills required |
| A | Paragliders with maximum passive safety and exceptionally forgiving flight characteristics. Very resistant to any deviations from normal state of flight. | Designed for all pilots, including all levels of training. |
| B | Paragliders with good passive safety and forgiving flight characteristics. Partly resistant to deviations from normal state of flight. | Designed for all pilots, including all levels of training. |
| C | Paragliders with moderate passive safety and possibly dynamic reactions to turbulence and/or pilot mistakes. Return to normal state of flight may require precise pilot input. | Designed for pilots who know principles of active steering and fly regularly, understanding consequences of using a wing with decreased passive safety. |
| D | Paragliders with demanding flight characteristics and possible abrupt reactions to turbulence and/or pilot mistakes. Return to normal state of flight requires precise pilot actions. | Designed for pilots flying very actively with considerable experience in turbulences, who understand and accept risk inherent in flying such paragliders. |
FLIGHT TEST DESCRIPTION
Flight test report (as described in European Norm 929-2) gives account of 24 manoeuvres. Each of them is ranked as A, B, C, D or F (Failure). There is no percentages here, a paraglider gets as its overall result the lowest mark it obtained at any point. Even a single failure means that a paraglider did not pass at all, i.e. is not conforming to the norm. During flight tests following elements are assessed:
1 – inflation/take-off
2 – landing
3 – speed in straight flight
4 – steering forces and range
5 – pitch stability when exiting accelerated flight
6 – pitch stability using controls while in accelerated flight (any collapses?)
7 – roll stability and damping
8 – stability in gentle spirals and recovery
9 – behaviour in a steeply banked turn (sink rate after two revs)
10 – symmetric front collapse
11 – exiting deep stall (parachutal stall)
12 – recovery from high angle of attack
13 – recovery from a developed full stall
14 – asymmetric collapse
15 – directional control during maintained asymmetric collapse
16 – tendency to spin at trim speed
17 – tendency to spin at low speed
18 – recovery from a developed spin
19 – B-line stall and recovery
20 – big ears: entering, steering, exiting
21 – big ears in accelerated flight (entering, steering, exiting)
22 – behaviour on exit from a steep spiral
23 – alternative means of directional control
24 – any other flight procedure and/or configuration described in the users manual
---
We recommend getting some knowledge on the test & assessment methods, since they can give you an objective report of wings' behaviour. Just search the web, here is one of the links.
Harness Tests
Harnesses are tested in accordance with EN 1651 / LTF. You can see what it looks like in the video below.
copy link
See movie