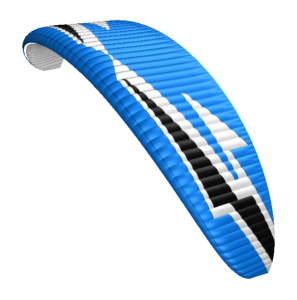 Paramotor
Hadron 1.1 is a refreshed Hadron version.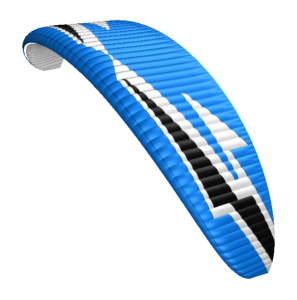 Info
Photos
Parameters
Download
When we stopped the Hadron manufacture, there was increasing number of calls stating that the paraglider is being missed by some. It turns out that despite somewhat less performance than the XX, original Hadron offered incredible stability and simple operation. Hereby we are renewing its production, with sizes limited to the most poular and slightly altered colours. Hadron 1.1 does not feature the AFS (Aerodynamical Flap System), simplifying the risers and launch preparations.
Hadrons are tiny elementary particles, which speeded up can carry gigantic amounts of energy. Accordingly, the Hadron is fast, energetic and can lift a lot.
The paraglider is dedicated for the frequent and experienced flyers, who have perfectly mastered the reflex glider specifics.
Hadron's "reflexivity" is constant in all trimmer positions. At 5,9 aspect ratio its 59 cells look relatively modest, allowing for easy inflation and perfect internal pressure distribution. Synthetic rods on its leading edge bring considerably better launch characteristics and stability at high speeds.
Serial produced Hadrons are equipped with 2D steering system, similar to classic steering configuration (the pilot has but two brakes at his disposal). Steering is designed so that at low and medium speeds the steering lines geometry is not very aggressive, thus enhancing precise canopy control. At high speeds (full trims + speedbar) only the outer steering lines should be used, alternatively you can make some corrections by the TEA/TST system.
Since the steering is divided, an experienced pilot can adjust brake progression to his own liking. The other systems known from our previous canopies (ALC or TST) can be used too, without much trouble at installation. Everything depends on experience and creativity of the pilot. When flying this class of paragliders, they are usually abundant and pilots can tune steering to their style.
Like all of our paragliders, Hadron is produced entirely in Europe, at our Polish plant. Thus close monitoring of the complicated production process is possible, and the distance between designer's ideas and their implementation is as short as it can be. Additionally, Hadron is the first paraglider we cut exclusively with a recently purchased state-of-the-art laser cutter. Stunning capabilities of this machinery allow for serial cutting of intricately shaped, narrow parts in large numbers, as well as their best distribution regarding the textile structure. Without such precise technology at our disposal, production of the Hadron would simply not be possible.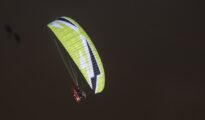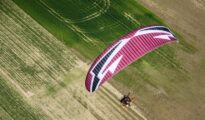 Parameters
TECHNICAL DATA
Hadron – size

18
20
22
24
Approval – ULM identification
yes
yes
yes
yes
Number of cells
59
59
59
59
Surface area (flat) [m2]
18
20,00
22,00
24,00
Surface area (projected) [m2]
15,62
17,36
19,1
20,83
Span (flat) [m]
10,30
10,86
11,39
11,9
Span (projected) [m]
8,32
8,78
9,21
9,61
Aspect ratio (flat)
5,90
Aspect ratio (projected)
4,44
Sink [m/s]
min = 1.2 +/- 0.2
Speed [km/h]
min = 24 ; trim = 38-51 ; max = 62 (+/- 3)
Distance pilot to win [m]
6,60
7.01
7.34
7.67
Total lines lenght [m]
316
335
351
368
Total take-off weight [kg]
70-100
80-110
85-120
95-135
Max take-off weight – competition [kg]
110
120
140
160
Distance between risers [cm]
45
45
45
45
Load test [kg]
1179
Weight of the wing [kg]
4.7
5.2
5.6
5.8
Lines
Edelrid A-8000U: 050 / Liros TSL: 090 & 140 & 190 & 280
Fabric
Porcher 38g / Porcher Hard 40g / Dominico Tex 34g / SR Scrim / SR Laminate 180g
()* Maximum allowable take-off weight for very experienced pilots. CAUTION: the paraglider considerably alters its behaviour depending on the wing load. Maximum loads require employing highest pilot skills.
** DGAC certificate is based on flight test and internal paramotor flight tests. It is compulsory in France and regarded as reliable in ever growing number of countries.