Paramotor
You are an experienced paramotor pilot, averaging several hundred flight hours a year. You can master a fast and agile canopy.
Info
Photos
Parameters
Download
You are an experienced paramotor pilot, averaging several hundred flight hours a year. You can master a fast and agile canopy. You love playing over the ground with slaloms, wing overs, foot dragging etc. Maybe you take part in high-level competitions or plan to beat some world record…
If so, you are looking for the really fast and agile paraglider with perfect handling and little power requirements.
It has to be turbulence-proof, so the reflex aerofoil is a must. If you add to this wish list possibly small size, honestly you´ll have to admit this is a rather tall order. But… it´s possible to satisfy it!
Just enter the interaction with the Hadron
HADRON – Strong Interactions
Hadrons are tiny elementary particles, which speeded up can carry gigantic amounts of energy. Accordingly, the Hadron is fast, energetic and can lift a lot.
Creation of this canopy was inspired by Pascal Vallee, one of the best pilots in the world. Pascal's input was also substantial in testing and refining the protoypes. His ideas materialized within Hadron proved to be perfect, as confirmed by consecutive triumphs in many competitions.
The paraglider is obviously dedicated for the frequent and experienced flyers, which have perfectly mastered the reflexed gliders specifics. Although the target group of the Hadron is similar to Plasma pilots, there are significant differences between both wings.
Hadron's "reflexivity" is a bit lesser than that of the Plasma, but in return it is constant in all trimmer positions. At 5,9 aspect ratio its 59 cells look relatively modest, allowing for easy inflation and perfect internal pressure distribution. Synthetic rods on its leading edge bring considerably better launch characteristics and stability at high speeds.
Series-production Hadrons have classic steering configuration, i.e. the pilot has but two brakes at his disposal. Steering system is called 2D. Steering lines are configured in such way, that at low and medium speeds their geometry is not very aggressive, thus enhancing precise canopy control. At high speeds (full trims + speedbar) only the outer steering lines should be used, alternatively you can enter some corrections by the TEA system. Since the steering is divided (there are two lines at the handles, one goes through the pulley and the other directly to trailing edge) an experienced pilot can adjust brake progression to his own liking. The other systems known from our previous canopies (ALC or TST) can be used too, without much trouble at installation.
Like all of our paragliders, Hadron is produced entirely in Europe, at our Polish plant. Thus close monitoring of the complicated production process is possible, and the distance between designer's ideas and their implementation is as short as it can be. However, Hadron is the first paraglider we cut exclusively with a recently purchased state-of-the-art laser cutter. Stunning capabilities of this machinery allow for serial cutting of intricately shaped, narrow parts inlarge numbers, as well as their best distribution regarding the textile structure. Without such precise technology at our disposal production of the Hadron would simply not be possible.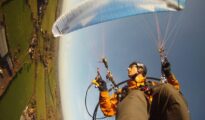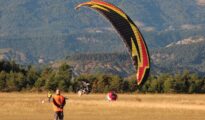 Parameters
Technical data
Hadron-size
18
20
22
24
26
28
Approval
DGDC
DGDC
DGDC
DGDC
DGDC
DGDC
Number of cells
59
59
59
59
59
59
Surface area (flat) [m2]
18.00
20.00
22.00
24.00
26.00
28.00
Surface area (projected) [m2]
15.62
17.36
19.1
20.83
22.57
24.3
Span (flat) [m]
10.30
10.86
11.39
11.9
12.38
12.85
Span (projected) [m]
8.32
8.78
9.21
9.61
10.01
10.38
Aspect ratio
5.90
Aspect ratio (projected)
4.44
Sink rate [m/s]
min = 1.0 ; trim = 1.2-1.7 ; max = 2.8
Speed [km/h]
min = 24 ; trim = 38-51 ; max = 62
Distance pilot to wing [m]
6.6
7.01
7.34
7.67
7.98
8.28
Total lines lenght [m]
316
335
351
368
383
398
Weight range DGAC [kg]
45-110*
50-120*
65-140*
80-160*
95-160*
110-160*
Load test [kg]
1179
Weight of the wing [kg]
4.7
5.2
5.6
5.8
6.0
6.5
Lines
Edelrid A8000U: 025 & 050 & 120 & 200; 7343-280
Fabric
Dominico Tex 41g / Porcher 34g / Porcher Hard 40g / SR Scrim / SR Laminate 180g
()* Maximum allowable take-off weight for slaloms, acrobation etc. CAUTION: the paraglider considerably alters its behaviour depending on the wing load. Maximum loads require employing highest pilot skills.