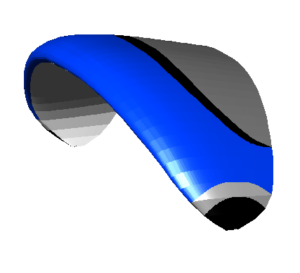 Free Flying
You are beginning your paragliding career and have just decided to buy your first wing. It is quite an expense, so your craft should be as versatile and long-lasting as possible.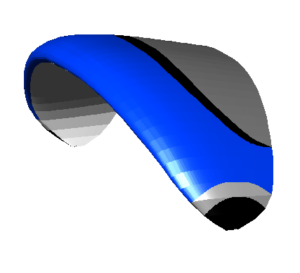 Info
Photos
Parameters
Download
You haven't yet discovered what kind of flying will be your favourite, so you would like to try everything: soaring the cliffs and diving off mountain peaks, flatland tow-launches and of course also paramotoring.
You want to master thermalling skills and speed-bar usage on glides, but first and foremost you want to enjoy the mystical experience of flight without any disturbances from your wing. Of course there is still a lot to learn, so your wing should be forgiving of occasional faults, yet have enough performance to let you experience some real adventures.
Sounds like fiction, doesn't it? Well, not any more. Such a wing exists, and it is called Nemo.
Nemo is a modern paraglider with good performance and a big safety margin. It is dedicated for the use of novice pilots, but is capable of motorised flight, winching and instruction as well. Nemo has passed new EN tests and old AFNOR. It has wide weight ranges – 40-125 kg.
Launch
All you have to do is to pull slightly on the A risers. Especially on tow launch your effort is minimal – the wing comes over your head by itself, even when not pulled to the limit.
Handling
As a beginner's wing should be, Nemo is indifferent to rapid or excessive steering inputs. With full brake and weightshift it follows your mind, without being too eager. Applying only the brake produces wide and easy turns. While thermalling, the wing remains solid, and on glides the speed-system works pretty efficiently.
Performance
In flight you will be surprised by the glide ratio, excellent among leisure paragliders.
Construction
The simplicity of the rigging makes the pre-flight procedures fast and easy. The canopy features simplified v-cells and Velcro-closed tips for removing litter from inside the wing.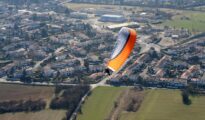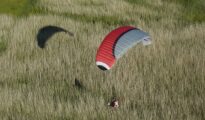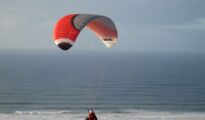 Parameters
TECHNICAL DATA
Size
Nemo XS
Nemo S
Nemo M
Nemo L
Nemo XL
Certification
EN / B
EN / B
EN / B
EN / B
Afnor / Standard
Number of cells
42
42
42
42
42
Surface area flat [m2]
21,11
23,14
25,11
27,16
29,29
Surface area projected [m2]
18,62
20,40
22,14
23,95
25,82
Span flat [m]
9,79
10,25
10,68
11,11
11,53
Span projected [m]
8,16
8,54
8,9
9,26
9,61
Aspect ratio flat/projected
4,55/3,58
Sink rate [m/s]
min = 1; trym = 1,2; max = 2
Speed [km/h]
min = 22; trym = 36; max = 45
Max cord [cm]
271
284
296
308
320
Minimum cord [cm]
22
23
24
25
26
Distance pilot to wing [cm]
644
674
702
730
758
Total lines length [m]
263
276
287
299
310
Weight of the wing [kg]
4,7
5,0
5,3
5,5
6,0
Weight ranges [kg]
40-65
55-80
65-95
80-115
100-125
Lines
Dyneema Ultimate: 1,1 & 1,5 & 1,9 & 2,5
Fabric
SkyTex Evolution & SkyTex Classic