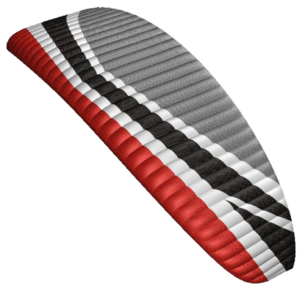 Free Flying
You've completed your training, you feel confident with your basic flying skills and you look for a safe yet not excessively demanding allrounder.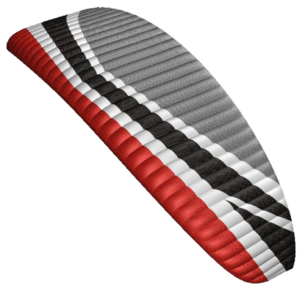 Info
Photos
Parameters
Download
Plus is a long-awaited successor of hugely popular Vox of intermediate class. It is our first paraglider designed with assistance of state-of-the-art Glider Plan engineering software.
New possibilities coupled with Piotr Dudek rich experience resulted in creating a new paraglider with perfectly balanced and stabilised canopy fullfilling pilots' expectations of this class.
Plus is a safe wing with excellent performance, easy inflation and take-off, good both at winch and PPG.
Moto Package
On purchase the additional Moto Package is available. It consists of:
exchange of standard risers for 'moto' version with trimmers,
exchange of Delinova backpack for MotoBag (including quickpack),
exchange of standard speedbar for an Easy Catch.
The 'moto' risers are equipped with trimmers, increasing airspeed by some 10 km/h (with further 5 km/h possible via speedbar use). Trimmers allow for torque effect compensation as well.
NOTE

On leaving the factory all moto risers are blocked with a special buckle. When it is present, you can't use the trimmers and the paraglider conforms to EN norm. However, if you want to get that additional angle of attack regulation, all you have to do is move the buckle toward black loop which pulls the trimmer in.
Be aware though, the paraglider was not certified in any other configuration than "fully closed" position.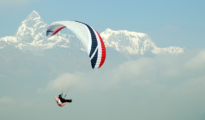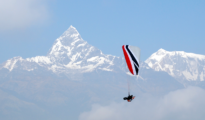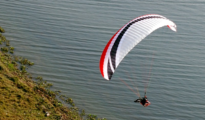 Parameters
Technical data
Name – size
Plus 22
Plus 24
Plus 26
Plus 28
Plus 30
Plus 32
Certification EN

EN B
EN C
EN B
EN B
EN B
EN B
Certification LTF

2
1-2
1-2
1-2
1-2
1-2
Number of cells
44
44
44
44
44
44
Surface area (flat) [m2]
22
24
26
28
30
32
Surface area (projected) [m2]
19,01
20,74
22,47
24,20
25,92
27,65
Span (flat) [m]
10,59
11,06
11,52
11,95
12,37
12,77
Span (projected) [m]
8,46
8,84
9,20
9,55
9,88
10,21
Aspect ratio (flat)
5,10
Aspect ratio (projected)
3,77
Sink rate [m/s]
min = 1,1 ; trym = 1,2 ; max = 2,0
Speed [km/h]
min = 23 ; trym = 37 ; max = 48
Max cord [cm]
235,96
246,45
256,51
266,20
275,52
284,57
Minimum cord [cm]
46,59
48,67
50,65
52,57
54,41
56,19
Distance pilot to wing [cm]
677,92
708,05
736,96
764,80
791,58
817,57
Total lines lenght [m]
371,33
387,84
403,67
418,92
433,59
447,83
Weight range EN/LTF [kg]
48-65
60-80
75-95
90-110
100-125
115-140
Weight range DGAC [kg]
48-80
60-95
75-110
90-125
100-140
115-155
Weight of the wing [kg]
5,3
5,7
6,0
6,3
6,7
7,1
Lines
Technora 1,2 & 1,3 & 1,5 & 1,8 & 2,3
Fabric
SkyTex Evolution 40 g/m2
SkyTex Classic 40 g/m2
SkyTex Hard 40 g/m2
SR Scrim, SR Laminate 180 g/m2