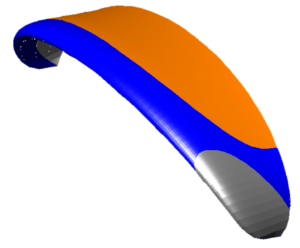 Paramotor
You have already tried paramotoring and you know that it is your game. Casual local flights are not enough for you - you like to see your name on the winner's rostrum :)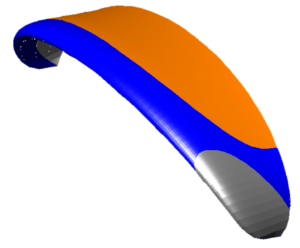 Info
Photos
Parameters
Download
You have already tried paramotoring and you know that it is your game. Casual local flights are not enough for you – you like to see your name on the winner's rostrum 🙂
You want to explore new horizons, fly over difficult terrain and in varied conditions. You are not afraid of thermal flying, you like flying to the limit (full throttle + full speedbar).
As you are not looking for compromises, you really do need the best wing in the world, the wing used by most of the top-placed pilots…
Then there's not much choice, is there. There's nothing better than the ReAction. This wing will enable you to realise your full potential?
Every result has its cause. For every action, there is a reaction. So our famous Action could only have been followed by our Reaction
Reaction TST
After extensive research in last couple of months our ReAction has been markedly improved, so in order to distinguish it from the original design we have changed both name and logo of the wing to a Reaction TST".
ReAction TST features our Tip Steering Toggles system, designed to facilitate high speed flying.
The risers have been modified too – proven scheme of split A's was introduced, so that smooth inflation can be obtained much easier. Previous (standard) arrangement sometimes caused the wingtips to shoot up earlier than centre on careless spreading the wing before launch. Now the margin for pilot error has been considerably widened.
ReAction is an technically improved and graphically renewed version of Action. It is based on the same proven reflex-wing concept. It features a self-stabilising wing section that, in the case of a decrease in its angle of attack, automatically responds to compensate. In other words it always stays neutral with regard to its load, so it's tuck-resistant. And as you well know, the funny thing is that the faster you fly, the more comfort you have 🙂
Over three years of Action manufacture, and after thorough design review and careful analysis of pilots' input, the time has finally come to apply all our new ideas to improve this successful wing.
All the modifications that have been introduced have been thought through and tested in practice, so we are pretty confident they are all positive improvements.
In comparison to its predecessor, the ReAction is a bit faster, inflates easier and features a number of changes that improve wing durability and ease of use. Besides our 'basic' ReAction we have prepared a 'S' version too, equipped with non-sheathed lines in the upper rigging.
Most significant changes are:
smoother trailing edge and overall better profile projection
risers have new trimmer buckles and exchangeable trimmer tapes
risers now have two suspension points to choose from (low and high, depending on pilot's harness/engine setup)
the magnetic clips of the brake handles have been improved
internal ribs and suspension points have been strengthened, making the wing even more durable
the suspension line layout has been modified at the central part of the trailing edge (this change makes the inflation considerably easier, so novice pilots should have fewer problems)
in the 'S' version all upper gallery lines are made of non-sheathed Dyneema (overall drag reduction)
new set of colour schemes for the wing
The ReAction 'S' is the official wing of the Polish PPG Team.
ReAction has passed the AFNOR Performance certificate.
The 'S' version has passed additional strength tests due to the different kind of lines.
Certification
The smallest and biggest ReAction sizes passed the EN/AFNOR tests, where both qualified as Performance class. The 27 and 29 sizes obtained a double qualification (Standard/Performance).
On ReActions 25 and 31 the test pilots managed to induce the frontstall with fully closed trims, something very hard to do in normal state of flight and practically impossible to happen on its own. The forced frontstall that occured was much deeper than in normal aerofoil wings, and because of that it opened longer than three seconds. That was the only reason for the Performance rating – in all other manoeuvres our ReAction conformed with the Standard class.
In open trims configuration Performance rating was caused by the B-stall.
We encourage all interested to read the test reports – it is one of the best ways to learn some things that you won't see in the raw technical data.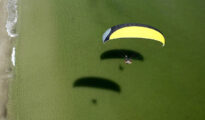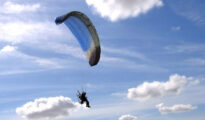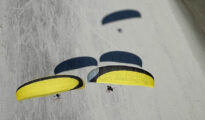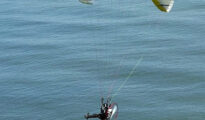 Parameters
Technical data
Reaction – Size
25
27
29
31
Certification AFNOR/EN
Performance
Stand./Perform.
Stand./Perform.
Performance
Number of cells
65
65
65
65
Surface area (flat) [m2]
25,77
27,81
29,80
31,92
Surface area (projected) [m2]
22,82
24,11
26,39
28,27
Span (flat) [m]
11,83
12,29
12,72
13,17
Span (projected) [m]
9,82
10,20
10,56
10,93
Aspect ratio (flat/projected)
5,43/4,23
Sink rate [m/s]
min = 1,1; trim= 1,5-2; max = 3,1
Speed [km/h]
min = 23; trim = 42-46; max = 60
Max cord [cm]
267
277
287
297
Max wing depth [cm]
50
52
54
56
Distance pilot to wing [cm]
748
777
804
832
Total line lenght [m]
397
411
427
442
Weight ranges * [kg]
70-90
80-105
95-125
105-135
Weight of the wing [kg]
6,8
7,1
7,5
7,8
Lines
Technora 1,2 (or non-sheated
Dyneema Ultimate 0,8 for Sport version) &
Technora 1,3 & 1,5 & 1,8 & 2,3
Fabric
SkyTex Aquatic 44 g/m2 (E85A)
SkyTex New 39 g/m2 soft finish (E38A)
SkyTex New 39 g/m2 hard finish (E29A)
Mylar Polyester Scrim 180 g/m2
* include equipment: empty engine (without fuel), harness, wing and pilot itself