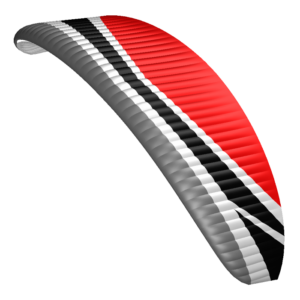 Free Flying / Cross Country
Universal
Free Flying / Cross Country
Universal is the first free flying (EN B) paraglider ever which can be converted by its user into a full-blood paramotor canopy (conforming to the DGAC standard).
Universal is a great free-flying recreational paraglider, including cross-country flights. Beginning XC pilots will surely appreciate exceptional comfort in uneasy thermals, resulting from considerable amount of reflex traits present in the design.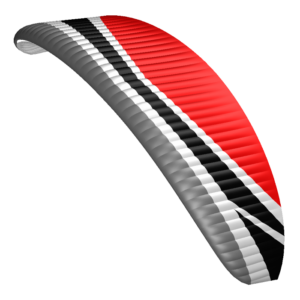 Info
Photos
Parameters
Pobierz
On activating the trimmers and setting up the ALC+ steering, Universal becomes a full reflex paramotor wing, good for both leisure and cruise flying, thermalling, last but not least for initial paramotor training.
No matter what kind of flying you choose, the Universal has a perfect launch, rigid canopy, is pretty agile, nicely handling and safe.
As is the case of all our paragliders, the design draws on our long-time experience, simultaneously incorporating state-of-the-art technologies. The Universal is certified EN-B and LTF-B, and is in last stages of receiving paramotor (DGAC) certificates.
Target group:
Universal is dedicated for beginner and recreational pilots who fly:
exclusively free (but want to benefit from moderate reflex ability)mostly free, sometimes with paramotor
both free and paramotor
mostly with paramotor, sometimes free
exclusively paramotor (but appreciate better economy, easier launch and nicer handling than in standard paramotor wing, like Synthesis2)
Important for instructors
Universal is perfect for initial PPG training.
Paramotor-set
Universal comes with factory-installed trimmers, but (!) they are disabled (!), e.g secured with plastic buckle and hidden in a neoprene sock. Along with developing pilot skills, or by the judgement of instructors trimmers can be activated (half, of full), and ALC toggles can be installed (ALC kit included in the bag).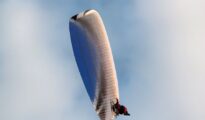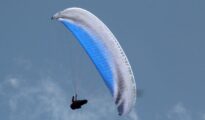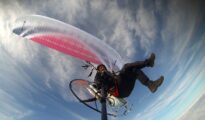 Parameters
TECHNICAL DATA
size
23
25.5
28
31
34
Certification
 EN/LTF B
 EN/LTF B
 EN/LTF B
EN/LTF B
–
DGAC approval
yes
yes
yes
yes
yes
Cells
50
50
50
50
50
Surface area flat [m2]
23.00
25.50
28.00
31.00
34.00
Surface area projected [m2]
19.83
21.98
24.14
26.72
29.31
Wingspan flat [m]
10.83
11.40
11.95
12.57
13.17
Wingspan projected [m]
8.71
9.17
9.61
10.11
10.59
Aspect ratio flat
5,10
Aspect ratio projected
3,83
Sink [m/s]
min = 1,1; trim= 1,3-2,2; max = 3,0
Speed [km/h]
min = 23; trim = 37-52; max = 57
Longest chord [cm]
261.20
275.10
288.20
303.30
317.60
Shortest chord [cm]
60.10
63.30
66.30
69.80
73.10
Lines+risers length [m]
6.82
7.18
7.53
7.92
8.29
Total lines length [m]
344.01
362.82
380.74
401.20
420.70
Take-off weight DGAC [kg]
60-95
70-115
90-140
110-170
135-215
Take-off weight EN [kg]
60-75
70-95
90-115
110-140
(135-170)
Weight of the glider [kg]
6.1
6.6
6.9
7.5
7.8
Lines
Technora 1,2 & 1,3 & 1,5 & 1,8 & 2,3
Cloth
Dominico tex 34 i 41 g/m2
Dominico tex Hard 40 g/m2
SR Scrim, SR Laminate 180 g/m2
Risers
Pasamon – Bydgoszcz, Polska