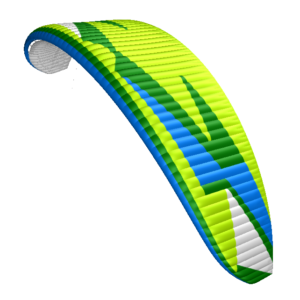 Paramotor
Hadron XX is a reflex sport/cross-country paraglider for very experienced pilots, who are familiar with small, fast and very agile canopies with short brakes travel. It is a fast and agile wing offering plenty of lift, as well as comfy handling. Its domaines are classic paramotor competitions, long routes, slaloms and thermalling.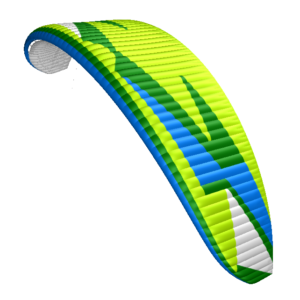 Info
Photos
Parameters
Download
As every other modern paramotor wing, the Hadron XX features carefully designed airfoil section, in this case optimised for cross-country effectiveness. For the first time we used the Aerodynamical Flaps System – our innovative idea for easy take-off and landing even at high altitudes, as well as better use of thermal lift.
The Hadrons in nature are tiny elementary particles, which speeded up can carry gigantic amounts of energy. Rest assured that in this case the name of the paraglider exactly reflects its"personality" 😉
After really long R&D period (first prototypes have been tested already at the beginning of 2014, still by Grzegorz Krzyżanowski) we have decided on one of the four prototypes, with the characteristics best matching intended use. The Hadron XX is our answer to paramotor market demand for a dedicated high-performance wing with variable angle of attack and constant airfoil. There is quite a number of pilots looking for such wings. The Hadron XX however distinctly differs from the original Hadron or Hadron 1.1; it is faster, more agile and more efficient, yet definitely more demanding and not quite forgiving errors.
Hadron XX is dedicated for advanced pilots (at least 300 hrs paramotor time on similar class of wings, i.e. Snake, Hadron, Hadron 1.1), who:
fly cross-country (including high-altitude launches),
take part in classic paramotor competitions verifying universal pilot's skills (navigation, economy, precision),
fly both paramotors and do classic PG thermalling.
These requirements are not excessive; for your own safety please observe them rigorously.
Fundamental characteristics of the Hadron XX:
Aspect ratio: 6,15 flat, 4,5 projected and 62 cells.
Reduced, three-row rigging decreasing total lines drag by 23%.
Shark Nose, mini-ribs on trailing edge, three sections of reinforcements (two on the leading edge and one on the back), 3D ballooning.
AFS-2 (Aerodynamical Flaps System) – you can partially modify the airfoil (like flaps in the aircraft).
Independent action of the trimmers and speed system, given that little trimmer is inactive (opened). Speed and trimmers can be used combined or separately – they have the same influence on the canopy.
Additional pulley on the B-riser decreasing drag, i.e. force needed to pull the trimmer or use speed-system.
Real smooth 2D steering, praised by the test pilots.
Impressive speed range – over 30km/h without touching the brakes.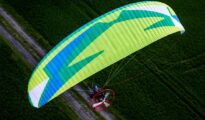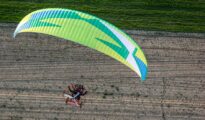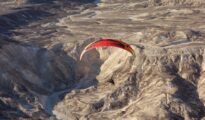 Parameters
TECHNICAL DATA
Size

16
17
18
20
22
24
Approval – ULM identification**
YES
YES
YES
YES
YES
YES
Number of cells
62
62
62
62
62
62
Wing area flat [m2]
16.00
17.00
18.00
20.00
22.00
24.00
Wing area projected [m2]
13.46
14.30
15.14
16.82
18.50
20.19
Wingspan flat [m]
9.92
10.22
10.52
11.09
11.63
12.14
Wingspan projected [m]
7.79
8.03
8.26
8.71
9.13
9.54
Aspect ratio flat
6.15
Aspect ratio projected
4.51
Sink ratea [m/s]
min = 1.3 +/- 0.2
Speed [km/h]
min = 29 ; trim = 43/49/63 ; max = 75 +/- 5
Distance pilot to wing [m]
5.85
6.03
6.20
6.54
6.86
7.17
Total lines length [m]
225.5
232.76
239.81
253.36
266.23
278.53
Take-off weight [kg]
70-85
80-95
90-135
100-150
110-160
120-170
Max take-off weight – competition [kg]*
110
120
135
150
160
170
Distance betwen risers [cm]
45
45
45
45
45
45
Canopy weight [kg]
4.60
4.75
5.0
5.3
5.7
6.1
Lines
Edelrid A-8000U: 050; 090; 120 / Liros TSL: 090 & 140 & 190 & 280
Cloth
Porcher Sport 38g / Dominicotex 34 g / Porcher Sport Hard 40g / SR Scrim / SR Laminate 180g
* Maximum allowable take-off weight for very experienced pilots. CAUTION: the paraglider considerably alters its behaviour depending on the wing load. Maximum loads require employing highest pilot skills.
** ULM/DGAC approval is based on flight test and internal paramotor flight tests. It is compulsory in France and regarded as reliable in ever growing number of countries.