Free Flying
You are beginning your paragliding career and have just decided to buy your first wing. You've been flying Nemo in the school, so why not stay with a Nemo2 then?
Info
Photos
Parameters
Download
You are beginning your paragliding career and have just decided to buy your first wing. You've been flying Nemo in the school, so why not stay with a Nemo2 then? And if you've been training on another paraglider, there are good reasons to choose Nemo2 too.
You still need a very safe and forgiving recreational canopy, right? A canopy offering you stress-free thermalling, winching, cross-country and PPG flying. A canopy flying so good, that you wil remember it for a long time.
And a canopy that would not ruin you.
If you are looking for such a wing – you are looking for a Nemo 2.
Nemo 2 is a versatile recreational wing of modern design, good performance and great passive safety, proven in many hours of extensive test flying. Despite its name it was thoroughly redesigned compared to its predecessor – it has different planform, curvature and a new airfoil.
When designing Nemo 2 we focused on uncompromising passive safety (high degree of tolerance for turbulences and pilot faults), with special emphasis laid on behaviour at maximum speed ( full speedbar). No less important was active safety, i.e. the paraglider's capability of self-recovery form unstable flight situations.
All those goals were successfully achieved, as confirmed by EN/LTF A certification.
Nemo 2 is not only very safe – it also flies distinctly better than its predecessor. We are very satisfied with it, as successful blending of these two features it is a very hard nut to crack.
To sum it up, Nemo 2 is devised for pilots with barely finished basic training, yet already displaying big ambitions. With its good-natured character it's great for training, but will serve you equally well with your first XC's, winch starts or paramotor adventures.
Certification
All sizes have already been certified as EN/LTF A paragliders.
Take-off
Take-off is pretty easy, with some practice it is not necessary to keep the risers up, as the canopy comes up on its own and waits for you in the nadir.
Steering
Nemo 2 is a docile wing, even rapid actions will not shake its balance. It requires a distinct input to turn, so remains tolerant to chance movements of your hands or unintended weightshift. Speed system is easy to use, while effectively increasing speed.
Performance
Once airborne you will be surprised by its L/D ratio, not usual for canopies with that large safety factor. On Nemo 2 you can seriously plan your first XC routes, without worrying about killer thermals.
Design
Simple line-scheme makes for easy start procedures.
The canopy features simplified V-ribs system and openings to clear the wingtips of debris. The Easy Keeper is there – currently the best available system system of docking the steering handles on the risers..
Canopy is made of Dominicotex company textile, with great operational parameters.
Moto Package
On purchase the additional Moto Package is available. It consists of:
exchange of standard risers for 'moto' version with trimmers,
exchange of Delinova backpack for MotoBag (including quickpack),
exchange of standard speedbar for an Easy Catch.
The 'moto' risers are equipped with trimmers, increasing airspeed by some 10 km/h (with further 5 km/h possible via speedbar use). Trimmers allow for torque effect compensation as well.
NOTE:

On leaving the factory all moto risers are blocked with a special buckle. When it is present, you can't use the trimmers and the paraglider conforms to EN norm. However, if you want to get that additional angle of attack regulation, all you have to do is move the buckle toward black loop which pulls the trimmer in.
Be aware though, the paraglider was not certified in any other configuration than "fully closed" position.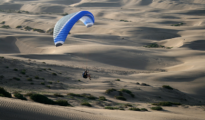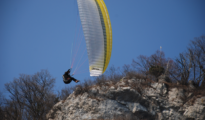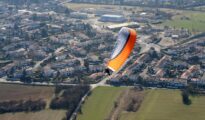 Parameters
Technical data
Name – size
Nemo2 20
Nemo2 23.4
Nemo2 25.5
Nemo2 28
Nemo2 31
Certificate EN/LTF
A
A
A
A
A
Certificate LTF 25/03 (EAPR)
yes
yes
Cell number
38
38
38
38
38
Surface flat [m2]
20.00
23.40
25.50
28.00
31.00
Surface projected [m2]
17.55
20.53
22.38
24.57
27.20
Wingspan flat [m]
9.69
10.49
10.95
11.47
12.07
Wingspan projected [m]
7.92
8.57
8.94
9.37
9.86
Aspect ratio flat/projected
4.70 / 3.57
Sink [m/s]
min = 1.1; trim = 1.2; max = 2.0
Speed [km/h]
min = 22; trim = 37; max = 46
Longest chord [cm]
255.62
276.49
288.62
302.44
318.23
Shortest chord [cm]
63.91
69.12
72.15
75.61
79.56
Lines length (incl. risers) [cm]
620.55
671.21
700.65
734.20
772.53
Total lines length [m]
303.50
328.28
342.68
359.09
377.83
Weight [kg]
–
5.7
6.2
6.5
7.1
Pilot weight (incl. gear) EN/LTF [kg]
48-65
59-80
65-95
80-115
100-140
Pilot weight (incl. gear) DGAC [kg]
48-80
59-95
65-110
80-130
100-155
Pilot weight (incl. gear) LTF 25/03 [kg]
100-125
120-150
Lines
Technora: 1,2 & 1,3 & 1,5 & 1,8 & 2,5
Cloth
Dominicotex