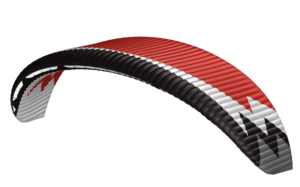 Paramotor
You've been flying paramotors for some time now. You know and appreciate performance & safety qualities of reflex profile wings. Even if you just fly as an amateur, you are willing to try something more than para-parking in the vicinity of the landing field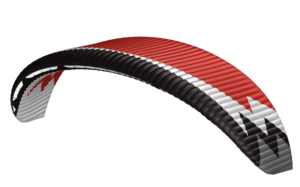 Info
Photos
Parameters
Download
You've been flying paramotors for some time now. You know and appreciate performance & safety qualities of reflex profile wings. Even if you just fly as an amateur, you are willing to try something more than para-parking in the vicinity of the landing field. Long, lonely routes are as attractive as your wish to compare yourself against world's best pilots in international competition or trying to establish some new record. You are not afraid of flying in strong thermals, and agility tasks close to the ground are fun too.
What you need is a top-drawer paraglider; a canopy that will be safe and stable both at top and low speeds, with efficient trimmers and speed systems (each of them increasing your speed over 10 km/h), sensitive controls capable of rapid 180's even when you are storming over 50 km/h with 30 m2 of cloth over your head. On top of that it has to be robust, so that high loads connected with aggressive PPG flying will not deform your wing after the first 150 hours.
Looks like a pipe dream?
Don't worry, the anti-drug team won't be sniffing around you – The Nucleon is real
The Nucleon is an Action/ReAction class paraglider, yet designed around a different idea (proven in Synthesis and Plasma). The new concept assumes linear characteristics of acceleration (equally shared between trims and speed system) and limited reflexivity at slow trim settings. It is accompanied by a number of new features, intensively tested since 2007 and introduced to mass production for the first time.
As a result we have a 100% reflex PPG paraglider with great performance and outstanding safety (comparable to the already legendary ReAction), presenting handling similar to classic paragliders (at low speeds).
Nucleon is certified EN/LTF, DULV and EAPR (see Technical Data and Download sections).
The Nucleon takes off perfectly, rising fast and clean after an easy inflation. In favourable conditions inflation is possible with body movement only, without the need to hold the risers in your hands.
DESIGN FEATURES
The Nucleon incorporates a number of proven and some novel features improving flight comfort and performance.
A set of design tools called Canopy Shape Guard effectively stiffens the wing along its entire span, practically eliminating any lateral canopy movement.
CSG oversees three crucial factors:
It forms the canopy so that it becomes a shape as close to the original design as possible, with equally distributed tension. No more irregular shape and bulging cells! (sadly, still quite often noticed on paragliders from some "leading companies").
It stabilizes the canopy in flight. Any wing that behaves like an accordion is detested by pilots and suffers fatal losses in performance.
It makes the canopy durable. It is widely known that PPG pilots are keen on overloading their wings, seeking more speed and stability. Initially it works, but soon deformations of excessively loaded fabric do occur. The most dangerous ones can be seen as lateral folds on the wing's upper surface, located between suspension line rows. With the Nucleon that danger is practically eliminated.
CSG consists of several subsystems:
VS (V-shaped Supports) – densely placed diagonal supports bolster each rib on both sides (most wings have only one-sided supports). Their size and shape make sure that no lateral folds will occur – a vital point in preserving laminar airflow.
RSS (Reinforcing Strap System) – an independent reinforcement net on lower surface, strengthening and stiffening the whole canopy.
OCD (Optimized Crossports Design) – The intercellar openings have carefully designed shapes and are optimally placed between stress lines in the ribs.
CCS (Closed Cell Structure) – This is a number of closed cells in the most important places. Its goal is to hinder the backflow from the cells out, thus facilitating their refill and canopy recovery in case of a collapse.
The only CSG flaws are the increase in weight (about 1 kg), material- and labour consumption, and of course overall cost. Yet it is well worth the sweat, as in turn we get a no-compromise product of highest performance and quality, able to keep its original parameters for a long, long time.
ALC
The Nucleon is our first paraglider equipped as standard with ALC, an alternative control system. The new system replaces previous TST, and is based on a solution developed by Michel Carnet on his ReAction since 2007, at the World Championship in China.
ALC allows for aggressive, yet effortless, turns on full speed without influencing its reflex aerofoil. It is especially important in the case of bigger canopies, inherently haunted by significant steering forces and low agility.
The new steering component is a red ball, easily positioned to fit various harness hang-points and personal preferences. In addition, the ALC ball and line are routed in such a way to be easy to use without the risk of entanglement with risers or other parts. Of course you can use just the standard brakes if you wish, ignoring the ALC ball.
The current version of ALC is honed to perfection by long trials of numerous designs. All signs show that it will soon become a standard in alternative PPG control systems.
Effective brakes
Classic steering with brakes has been redesigned too, rendering it even more effective than in our earlier paragliders. The Nucleon's brakes work even at fastest trim and speed settings, while at slow speeds their action is simply perfect.
TEA (Torque Effect Adjuster)
The task of this feature is to counteract the effect of engine torque, that tends to make the paraglider turn in the direction opposite to the propeller's rotation. TEA balances the torque by adjusting the length of some wingtip lines, and it can be adjusted to match you specific combination of paramotor/propeller. Simple to use, effective and easy to toggle on & off in the air.
Ball-bearing pulleys
As a first world company we have decided to use ball-bearing pulleys as standard on our paragliders, in order to minimize speed-system friction. Now we have our own Dudek Smart Pulley
Speed system cord
Our current speed system cord is a new, thick-woven pattern. It does not fray, does not stretch and perfectly fits our new pulleys.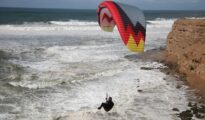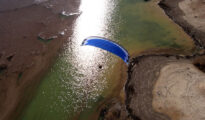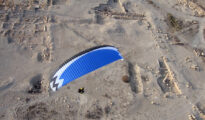 Parameters
Technical data
Nazwa – rozmiar
23
25
27
29
31
34
Certification EN
pending
C
C
C
C
C
DGAC approval
yes
yes
yes
yes
yes
yes
Certification LTF
C
Certification DULV
Advanced
Advanced
Advanced
Certification LTF 25/03 (EAPR)
yes
yes
Number of cells
62
Surface area (flat) [m2]
23,00
25,00
27,00
29,00
31,00
34,00
Surface area (projected) [m2]
19,58
21,28
22,99
24,69
26,39
28,95
Span (flat) [m]
11,14
11,62
12,07
12,51
12,94
13,55
Span (projected)
8,93
9,31
9,68
10,03
10,37
10,86
Aspect ratio (flat)
5,40
Aspect ratio (projected)
4,07
Sink rate [m/s]
min = 1,1 ; trim = 1,2-2,0 ; max = 3,0
Speed [km/h]
min = 23 ; trim = 37-50 ; max = 62
Max cord [cm]
245,69
256,15
266,20
275,88
285,23
298,72
Minimum cord [cm]
49,14
51,23
53,24
55,18
57,05
59,74
Distance pilot to wing [cm]
713,25
743,62
772,79
800,90
828,05
867,20
Total lines lenght [m]
375,67
391,67
407,03
421,84
436,14
456,76
Weight range* EN/LTF [kg]
65-80
75-95
90-110
100-130
120-145
140-175
Weight range* DGAC [kg]
65-100
75-115
90-130
100-150
120-165
140-195
Weight range* LTF 25/03 (EAPR) [kg]
100-125
120-150
156-195
Load test at 8G [kg]
154
190
213
Weight of the wing [kg]
6.3
6,6
6,9
7,3
7,8
8,2
Lines
Technora 1,2 & 1,3 & 1,5 & 1,8 & 2,3
Fabric
SkyTex Evolution 40 g/m2
SkyTex Classic 40 g/m2
SkyTex Hard 40 g/m2
SR Scrim, SR Laminate 180 g/m2
* include equipment: empty engine (without fuel), harness, wing and pilot itself