Paramotor
You are an experienced paramotor pilot, who loves dynamic flying. Maybe the next step of your adventure will be a slalom competition and you want to hone your skills, or you just want to feel your freedom in full, with quick transitions, instant turning, climbing and diving...
You look for a fast, agile and turbulence-resistant wing with perfect handling.
Well, don't look any further. The Snake 1.2 will satisfy your needs.
Info
Technologies
Photos
Colours
Parameters
Download
The Snake 1.2 is a refreshed version of the original Snake, basing on its huge potential (combined with a large – for a competition wing – margin of safety), additionally featuring some of the Snake XX solutions. Most of all that means very effective riser mechanisms and efficient methods of the canopy stress distribution, related to newest sewing technologies.
Refreshment includes a new colour scheme in the Four Elements palette (inspired by the predecessor). The Dominico cloth has been exchanged for Porcher and the line colours have been altered to accommodate PMA standards. Aside of that, basic parameters of the wing did not change.
The idea of a lifting for the Snake emerged from the needs and opinions of pilots, who – while regarding the Snake XX as an uncompromising wing for the slalom winners – noticed its need for constant piloting attention and smaller margin of safety. Thus, for the less ambitious purposes, dynamic play and fast routes they would prefer to have the previous Snake, if only… and here came a wish list, that hopefully has been realised in the Snake 1.2.
See movie
The Snake 1.2 is a safe wing for experienced pilots who want to fly actively for the sake of pleasure, love dynamic figures and abrupt speed changes. Nevertheless, pilots only starting their slalom experience will need this wing too, since it nicely fits in place of a transition wing, necessary on their way to the Snake XX.
For its 5,8 aspect ratio the canopy has relatively modest number of 58 cells, so that it fills up easily at launch, with good pressure distribution. The leading edge is stabilised with nylon rods (Flexi Edge Technology), that distinctly improve the launch quality and keep guard against deformations at high speeds.
The wing has an SL-type rigging (most of the lines sheathed, just some by the canopy are unsheathed).
The Snake 1.2 comes as standard with 2D and PA steering (Power Attack system, called also the Paap Kolar's system). The 2D scheme is very well known to the sport pilots, who have already used it in our previous paramotor designs. It consists of two main steering lines per handle, that is inner line running through a pulley and affecting 2/3 of the central trailing edge, and an outer line, fixed to the outer 1/3 of the wing and running free of pulley.
Although the Snake was designed to retain classic paraglider features, the reflex profile on board adds some new traits to it. First of all, reflex profile means that the wing's stability is no longer watched by the pilot only. Paraglider keeps a constant pitch, so that be it lift, sink or turbulence it doesn't shift position over pilot's head and does not require any intervention.
Beside change of the angle of attack, the trimmers and speed system allow for rising the rear part of the profile as well, thus decreasing its projected surface and chord by ca. 15%. This increases the wing load and airspeed of the paraglider. Additionally, the center of pressure is shifted forward, enhancing overall longitudinal stability. Such a change of loading gives the Snake 1.2  better resistance to collapses and increases its projected aspect ratio, so that pilot has much better performance at his disposal (especially at high speeds).
When trimmers are closed those reflex traits are much diminished. This is partly compensated for by its smaller size in relation to take-off weight, so that wing loading is greater.
Snake 1.2 is manufactured entirely in Europe at our Polish plant, so that we are able to exercise total control over its complicated production process (Laser technology).
Design solutions, technologies and other functionalities are listed below in the Technologies section.
Construction solutions
Technologies, concepts
Risers functionality
Used solutions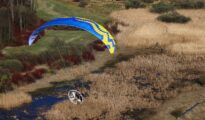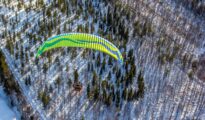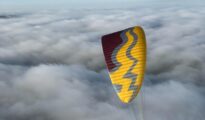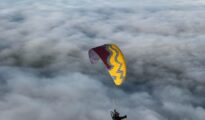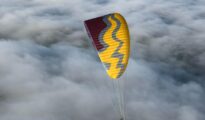 Parameters
TECHNICAL DATA
Size
16
18
20
22
24
Approval – ULM Identification
yes
yes
yes
yes
yes
Number of cellsl
58
58
58
58
58
Wing area flat [m2]
16.00
18,00
20,00
22,00
24,00
Wing area projected [m2]
13.93
15.67
17.41
19.16
20.90
Wingspan flat [m]
9.63
10.22
10.77
11.30
11.80
Wingspan projected [m]
7.88
8.36
8.81
9.24
9.65
Aspect ratio flat
5,80
Aspect ratio projected
4,46
Sink rate [m/s]
min = 1.2 +/- 0.2
Speed [km/h]
min = 25 ; trim = 39-52 ; max = 65
Lines + risers length [m]]
5.97
6.33
6.68
7.00
7.31
Total lines length [m]
275.56
292.88
309.27
324.86
339.75
Total take-off weight [kg]
65-90
70-100
80-110
85-120
95-130
Max take-off weight – competition [kg]
105
120
130
145
160
Distance betwen risers [cm]
45
45
45
45
45
Canopy weight [kg]
4.43
4.74
 5.08
5.46
7.78
Lines
Technora: A-8000U: 050; Technora: 90  & 140 & 190 & 280 & 340
Cloth
Porcher & Dominico
CAUTION: the paraglider considerably alters its behaviour depending on the wing load. Maximum loads require employing highest pilot skills.