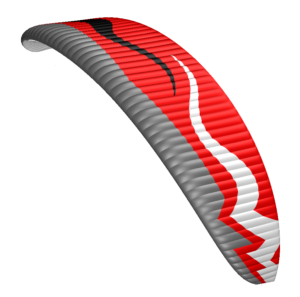 Paramotor
You are an experienced paramotor pilot, who tried the slalom flying and now is going to challenge the best. You look for a fast and agile wing with perfect handling, turning on a dime. It has to be turbulence-proof too, so practically only a reflex wing counts. If you complete that wish list with small paraglider size, there is only one answer to your dreams: the Snake.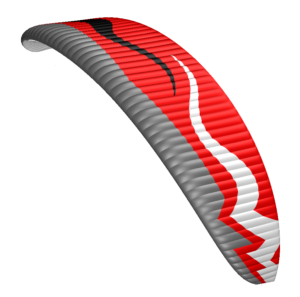 Info
Photos
Parameters
Download
Snake is designed for experienced pilots excelling in slalom tasks, or those just loving dynamic manouevres and rapid speed changes.
As standard it is fitted with 2D steering and PA system (Power Attack, also known as the Paap Kolar system).
Basic difference between Snake and Hadron is profile geometry that can be altered with trimmers, speed and Power Attack system, like it was in the Nucleon and Plasma.
At 5,8 aspect ratio its 58 cells look relatively modest, allowing for easy inflation and perfect internal pressure distribution. Synthetic rods on its leading edge (Flexi Edge Technology) bring considerably better launch characteristics and stability at high speeds.
The paraglider has the SL rigging (mostly sheathed lines, with some bare threads in the upper gallery).
2D steering system (featured as standard) is well known to the competitors, who have been using it with sport version of the rigging in some of our paragliders. It consists of two main steering going out of one handle, i.e. inner line, led through the pulley and affecting middle 2/3 of the trailing edge, and the outer one (outside of the pulley), connected directly to the outer 1/3 of the canopy.
Due to such division, experienced pilot can modify steering progression according to his own preferences. Everything depends on the pilot's wit and experience. Those, for whom the Snake is intended, will be able to customize the steering system to their own liking.
Although Snake was designed as retaining features of the classic paraglider, use of the reflex airfoil added a couple of new traits. First of all, reflex airfoil means that stability of the canopy is no longer tied to the pilot only. The paraglider remains stable, rising or sinking when passing through lift or turbulence it stays over pilot's head and does not require any action.
Action of the trimmer and speed systems brings lowering of the attack angle and uplifting the trailing edge, resulting in reduction of projected surface and chord of the wing by ca. 15%. This in turn increases paraglider's wingload and speed. Accompanying forward travel of the centre of pressure adds better longitudinal stability. Such a change of loads makes the Snake collapse-resistant and simultaneously increases its projected aspect ratio, thus increasing its performance too (especially at high speeds).
Reduced reflexivity of the Snake with closed trimmers is at least partly compensated by its reduced size as related to maximum take-off weight, resulting with increased load factor.
Snake, as all other paragliders by Dudek is manufactured wholly in Europe, at our Polish production plant. In addition to our standing policy "quality first", this allows the designer to directly control complicated production process (Laser technology) from the very beginning to the very end.
Pilots flying Snakes dominated 1st FAI World Paramotor Slalom Championships.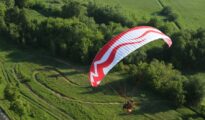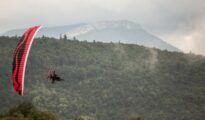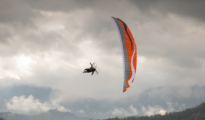 Parameters
TECHNICAL DATA
Size
16
18
20
22
24
Approval
DGAC
DGAC
DGAC
DGAC
DGAC
Number of cellsl
58
58
58
58
58
Wing area flat [m2]
16.00
18,00
20,00
22,00
24,00
Wing area projected [m2]
13.93
15.67
17.41
19.16
20.90
Wingspan flat [m]
9.63
10.22
10.77
11.30
11.80
Wingspan projected [m]
7.88
8.36
8.81
9.24
9.65
Aspect ratio flat
5,80
Aspect ratio projected
4,46
Sink rate [m/s]
min = 1.0 ; trim = 1.3-1.9 ; max = 3.1
Speed [km/h]
min = 25 ; trim = 39-52 ; max = 65
Lines + risers length [m]]
5.97
6.33
6.68
7.00
7.31
Total lines length [m]
275
293
309
325
340
Take-off weight [kg]
65-90 (105)*
70-100 (120)*
80-110 (130)*
85-120 (145)*
95-130 (160)*
Take-off weight DGAC**  [kg]
65-105
70-120
80-130
85-145
95-160
Canopy weight [kg]
4.6
4.9
 5.6
5.8
6.35
Lines
Edelirid A8000U: 050; 7343: 90 & 140 & 190 & 280
Clotha
DominicoTex 34/41 g / DominicoTex Hard 41 g / SR Scrim / SR Laminate 180g
()* Maximum allowable take-off weight for very experienced pilots. CAUTION: the paraglider considerably alters its behaviour depending on the wing load. Maximum loads require employing highest pilot skills.
** DGAC certificate is based on flight test and internal paramotor flight tests. It is compulsory in France and regarded as reliable in ever growing number of countries.