Paramotor / Free style
Snake XX
Paramotor / Free style
We are proud to present the very best of slalom canopies: Snake XX. It is a reflex sport paraglider for very experienced pilots, who are familiar with small, fast and very agile canopies with short brakes travel. This is a demanding wing for demanding pilots.
Info
Technologies
Photos
Colours
Parameters
Download
Highest performance available for fast slalom courses, with possibly best agility.  It's truly a champion's wing. Despite highest aspirations we did our best to preserve legendary stability, known from our other reflex paragliders.
Development of the Snake XX was focused on creating the best performance for more and more popular slalom competitions. Shark nose profile gives better airflow on the leading edge and higher air pressure within canopy at any angle of attack. The leading edge features synthetic rods (Flexi Edge Technology), considerably improving launch characteristics and protecting against collapses at high speeds. Additionally, front part of the canopy is further stabilised with the LE2R technology (Leading Edge Double Reinforcements). Higher aspect ratio, a bit more cells and modified arc gives result in better economy and agility of the wing.
See movie
The Snake XX however distinctly differs from the original Snake; it is faster, more agile and more efficient, yet definitely more demanding and not quite forgiving errors. It is dedicated for advanced pilots (at least 300 hrs paramotor time on similar class of wings, i.e. Snake, Hadron, Hadron 1.1). These requirements are not excessive; for your own safety please observe them rigorously.
The Snake XX is a 4-liner: high speed and stability can be successfully matched only in this riser scheme, allowing for precise pressure distribution within all reflex range.
B riser is anchored on a pulley, minimising speed system forces (previously it was a simple quicklink).
At Dudek Paragliders we improve not only flight performance, but also constantly care for improvements in production quality. Accordingly, the Snake XX is produced from highest quality Porcher Skytex materials. Coupled with laser cutting, precise sewing and finish of every small detail this makes the Snake XX a masterpiece.
Obviously, the Snake XX is a member of new art family – the XX Four Elements, as Air, Water, Earth and Fire.
The paraglider is currently available in 5 sizes – 15, 16, 18, 20 and 22. We recommend to choose the size so that the wing load ratio stays within 6,5 – 9 kg/m2 range.
Great success of the original Snake forces us to maintain its production for the time being, so that proficient slalom pilots can freely choose a paraglider best suited to their needs.
The Snake XX as standard is equipped with both 2D and PA steering systems (PA stands for Power Attack, or Paap Kolar system).
Since the main steering is divided, experienced pilot can adjust progression of trailing edge action to his needs.
Lower line layers are made of sheathed lines, with non-sheathed rest.
See movie
The trimmer and speed systems change the angle of attack and raise the trailing edge of the wing, so that projected surface and chord are diminished by some 15%. This increases the wing loading and speed ofthe paraglider, while shifting the aerofoil's centre of pressure forwards increases its pitch stability. As a result, the Snake has better resistance to collapses and greater aspect ratio, meaning much better performance (especially at high speeds).
Lessened reflex of the Snake on closed trimmers is partly compensated for by its smaller size regarding the take-off weight. This results in higher wing loading.
Design solutions, technologies and other functionalities are listed below in the Technologies section.
Construction solutions
Technologies, concepts
Risers functionality
Used solutions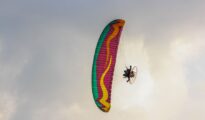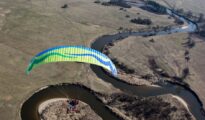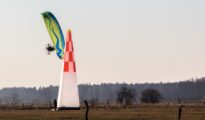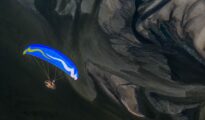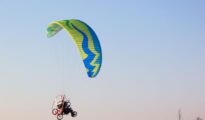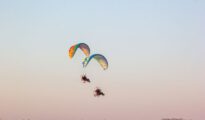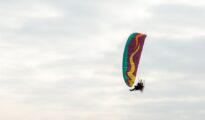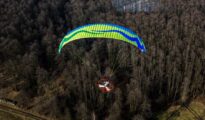 Parameters
Weight ranges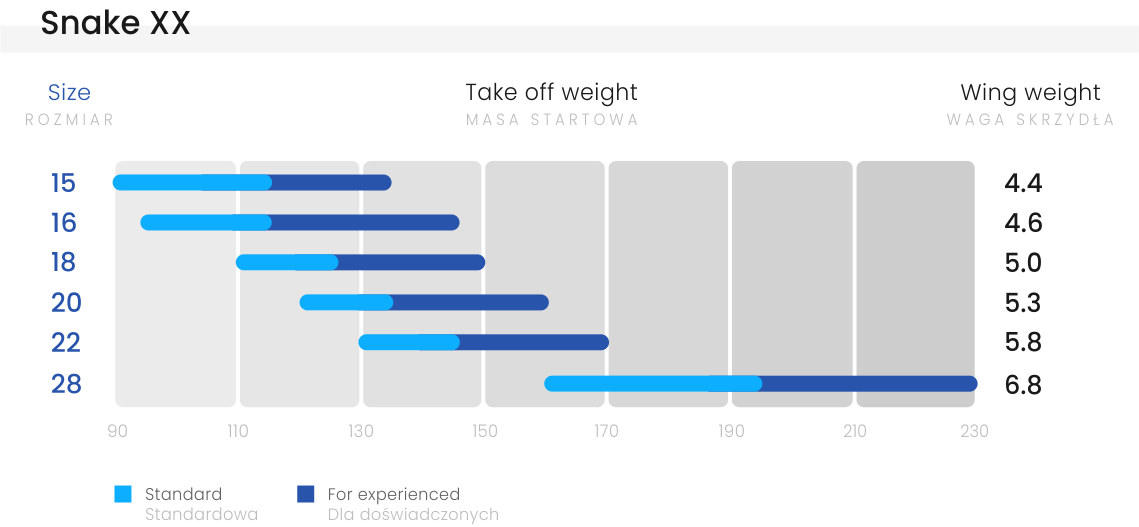 TECHNICAL DATA
Name – size

15
16
18
20
22
28
Approval – ULM identification
yes
yes
yes
yes
yes
yes
Number of cells
60
60
60
60
60
60
Wing area flat [m2]
15.00
16.00
18.00
20.00
22.00
28.00
Wing area projected [m2]
12.94
13.81
15.53
17.26
18.98
24.16
Wingspan flat [m]
 9.40
9.71
10.30
10.86
11.39
12.85
Wingspan projected [m]
 7.62
7.86
8.34
8.79
9.22
10.41
Aspect ratio flat
5,90
Aspect ratio projected
4,48
Sink rate [m/s]
min = 1.3 (+/- 0.2 m/s)
Speed* [km/h]
min = 30 ; trim = 46-60 ; max = 75 (+/- 5 km/h)*
Lines + risers length [m]
 5.64
5.83
6.18
6.52
6.83
7.71
Total lines length [m]
 251.41
260
276.43
291.96
306.74
347.43
Total ake-off weight** [kg]
90-105**
95-115**
110-125**
120-135**
130-145**
160-195**
Max take-off weight – competition*** [kg]
135***
145***
150***
160***
170***
230***
Distance betwen risers [cm]
45
45
45
45
45
45
Canopy weight [kg]
 4.4
 4.6
 5.0
 5.3
 5.8
6.8
Lines
Edelrid A-8000U: 050; 090; 130 / Liros TSL: 090 & 140 & 190 & 280
Cloth
Porcher Sport 38 g/m2 / Dominico tex 34 g/m2 / Porcher Sport Hard 40 g/m2 / SR Scrim / SR Laminate 180g
* Speeds are given as estimated for the middle wing size and the middle of its weight range. These speeds can vary within +/- 5 km/h depending on the size, take-off weight and additional factors such as air pressure and temperature.
** The basic rule is to choose the size of the wing so that the take-off weight is in the middle of the weight range. Less weight on the wing (lower range take-off weight) can be considered for foot take-off, when flying in calmer conditions, or when we want to improve economy. More experienced pilots who want to fly dynamically, have higher speed and fly in more demanding wind conditions can consider greater wing loading (take-off weight in the upper range). This is a common option among trike users.
*** Note – the canopy significantly changes its behavior with increasing wing loading. The greater the loads, the greater skill and concentration of the pilot are  required.